I feel bad... I know I have neglected my little blog for the past few months but time has been hard to find.
I recently participated in an online competition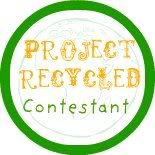 That took a lot of time because I had deadlines which is something I have never been good with. I am always last minute and when I have restrictions and guidelines with crafts it is not easy for me. Sooo between that and keeping up with
Crafty Girl Squared
I have let this fall into the background. I am excited to say I have recently done some re-organizing in my life, in my house and with my schedule which includes making more time for this tiny little blog of mine.
Very soon I will be showing you two skirts I made in the past week. Stay tuned!